Our founder Gary Bailey, a widely experienced utility arborist by profession, deployed to the Philippines as a shelter specialist, but faced with tree devastation on an unimaginable scale, quickly discovered that demand for his chainsaw skills far outweighed the immediate need for shelter.
After all, what use are tents if there's insufficient space to pitch them among fallen trees?
How does one begin to repair a hospital or school, when trees that previously stood in the grounds are now lying inside or against the building?
How can aid and rescue agencies operate effectively when fallen trees have closed major roads, downed power lines and blocked water courses?
The secondary impacts of fallen timber not only complicate rescue and recovery efforts, but attempts at clearance by untrained volunteers can result in further casualties, loss of life and damage to property.
The situation in the Philippines was far from unique! Fallen trees have been a characteristic of most natural disasters, including high profile events such as the 2004 Asian tsunami and the 2010 earthquake in Haiti.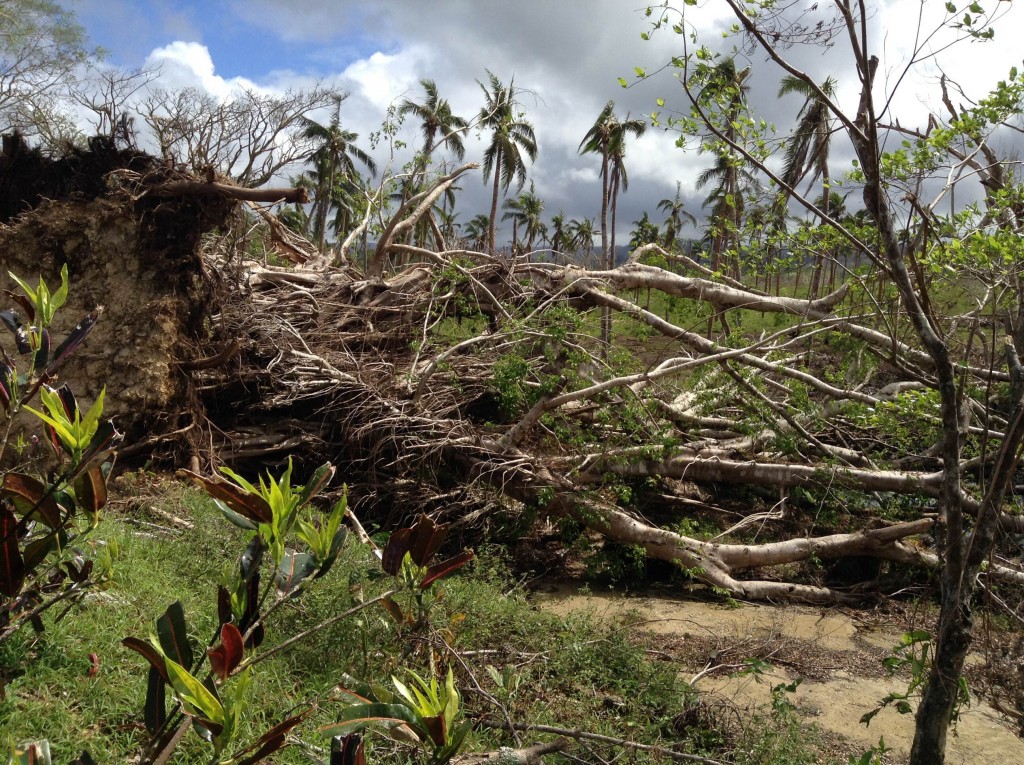 The benefit extended beyond that particular shelter operation, however. Cleared areas and functional buildings are valuable resources in any post-disaster environment, providing space and security that enabled other agencies to operate more effectively in the restoration of vital services and the delivery of food aid and medical support to the wider community.
Trees are important natural resources and in many parts of the world, vital to the local culture and economy as a valuable source of food, shelter and raw materials. In the immediate aftermath of a natural disaster, there is a tendency to view fallen trees simply as obstructions; a problem to be removed as quickly as possible, using whatever local resources are available. Faced with tree devastation on such a huge scale, other aid agencies in the Philippines were reaching for a solution that involved the use of imported chain saws. It quickly became apparent, however, that these were often being used by volunteers or local labour with little, if any, training. In the hands of someone with the appropriate training and experience, a chainsaw can be a highly efficient and effective tool.In the hands of the untrained, however, it represents a serious health and safety risk, not only to the user, but to others in the vicinity.
NGO Worker
Attitudes to health and safety may vary in different parts of the world, but many Filipino people were expressing concerns about the way well-meaning, but inexperienced NGOs were clearing and burning fallen timber without any consideration of its economic value, recycling potential or the possibility that some trees might even be saved for the benefit of future generations. This ad hoc slash and burn approach not only risked the health and safety of those involved, but also destroyed a potentially valuable that, if processed correctly, could retain some economic value and be save or recycled as part of the reconstruction process.
Like many developing countries, chainsaws are a rare commodity in the Philippines.
Expensive to buy and run, the few that were available in the wake of typhoon HAIYAN.Those that were, were generally old and poorly maintained.
In the absence of power tools, the response of most poor communities was to attack the problem with a selection of totally inadequate knives and hand tools; often placed in the hands of very small children.
Dart international uk
On return to the UK, The DART idea was floated, of creating teams of professional Arborists, specially trained and equipped to support humanitarian disaster relief operations worldwide. Encouraged by the enthusiastic response of fellow arborists and potential volunteers, and in collaboration with a small management team of trustees, DART International UK was formed as a registered Charitable Incorporated Organisation.
DART's objective is:
To provide teams of rapid response, experienced and qualified arborists, equipped to support disaster relief operations worldwide, so that trees that have become a danger are treated or removed and wherever possible continue as a vital source of food, shelter and raw material
After returning from seeing the devastation that Typhoon Haiyan struck the Philippines with, it was obvious that there was need for a team of arborists within humanitarian aid response. It seemed essential in the aftermath of such a storm that trees would be affecting the rebuild process but no one was offering this response team as a whole.
There are other trades that respond in the event of natural disasters such as electricians, engineers, medics, builders etc, but no chainsaw operative tree specialists and qualified work at heights teams.
Our team can work alongside and compliment these teams of other professionals as well as independently offer skills of our own.
Chainsaw and clearance work is a specialist field. Quality tools, equipment and personal protection are essential to the health and safety of all involved. The potential for serious injury by unqualified people using tools in these situations is immense.
Personal equipment
The DART team respond to natural disasters fully equipped for self sufficiency in the field. They take supplies of food for seven days and basic personal medical equipment. They work effectively and safely for the benefit of the people they are going to help. They do not drain resources and are happy to construct their own shelters to stay in whilst on deployment.
As Arborists we are adaptable outdoors people that can work in extreme conditions due to the amount of training and experience needed to be proficient in this trade.
The DART team have experience working in hot and cold weather conditions and in many different countries, a majority are ex military and bring certain skills with this experience.
Through our British standards and minimum industry qualifications our team are ready to respond and are constantly training because its what they do for a living in the UK.
The skills we have as a team. means we can operate in two four man teams deploying in different affected areas of disasters - each team has members that are fully equipped, trained and able to assist where needed.
Due to the training and the background experience of the teams, they also respond as shelter response workers ready and able to meet the needs of the people in these affected areas.